Your wedding day is a celebration of love, a day when dreams come true and memories are made that will last a lifetime. All details are important when it comes to your special day, but one element that truly captures the essence of your style and personality is the bridal bouquet. It is the perfect accessory that completes your bridal look and adds a touch of elegance to your walk down the aisle.

At Flower Chix, we understand the importance of finding the perfect bridal bouquet that reflects your unique taste and complements the theme of your wedding. That's why we offer an exquisite range of different styles, each carefully crafted to bring out the beauty of your special day. Whether you like a traditional, bohemian, contemporary or a garden-inspired look, our talented designers at Flower Chix will help capture the essence of your vision.

Let's focus on a few specific bridal bouquet styles including hand-tied, cascade, posy, and crescent shaped!
Hand-Tied
This style of bouquet is considered different from the others because instead of the flowers being in a compact bundle, they are a looser bouquet, with an almost hand-picked vibe, allowing for the stems to show more than other styles of bouquets. With this, a hand-tied bouquet has to do more with how it is built as opposed to the shape of it. These bouquets can be made with trailing greenery, or without, depending on the style you are trying to achieve. Whether it be more of a relaxed bohemian aesthetic, or more of a garden-picked look, a hand-tied bouquet is an excellent choice!

A few suggestions of flowers that look beautiful in hand-tied bouquets are anemones, gerberas, hyacinths (spring), tulips, lisianthus, freesias, dahlias (late summer and fall), calla lilies, stock, roses, ranunculi, snapdragons, and sunflowers. Complementary flowers that can be used as fillers in all bouquets can include astilbes, limonium (white or lavender), waxflowers, baby's breath, astrantia, genestra (early spring), chamomiles (early to late spring), veronicas, and hypericum berries.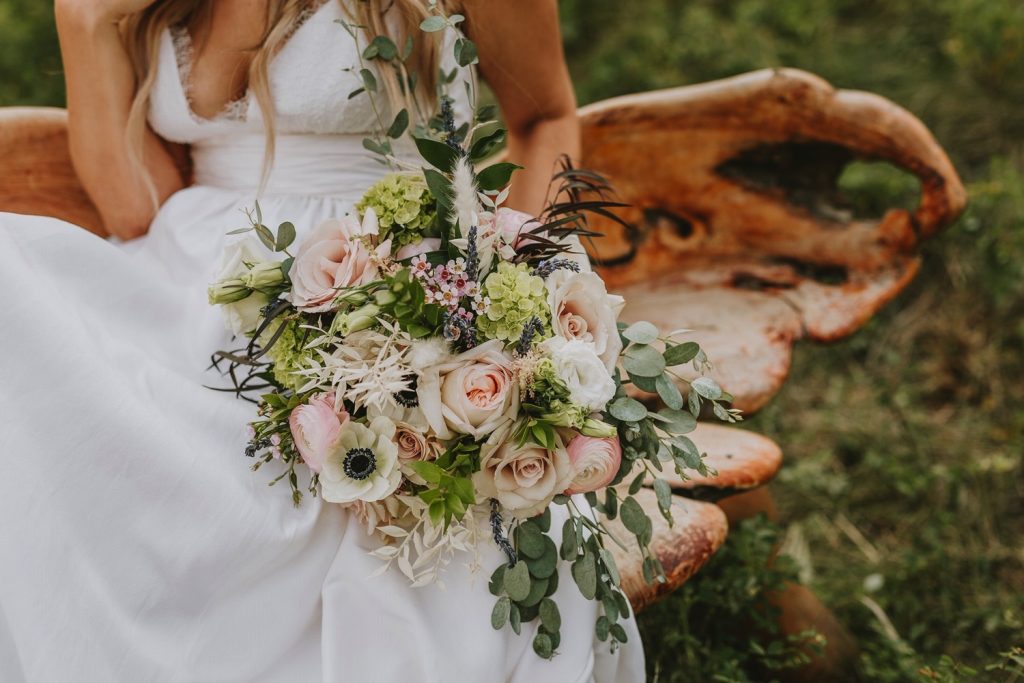 Cascading
These bouquets are usually built in a bouquet holder, and designed to have floral draping down the hands in the shape of a teardrop. Using flowers and greenery, we can create a more formal, traditional look to your bouquet. These types of bouquets are quite a statement, so if you want your floral to be a focal point of the day, this could be a great option for you!

Flowers that we suggest at Flower Chix for a cascading bouquet are roses, spray roses, delphinium, orchid stems, calla lilies, lisianthus, stock, carnations, mini-carnations, and lilies.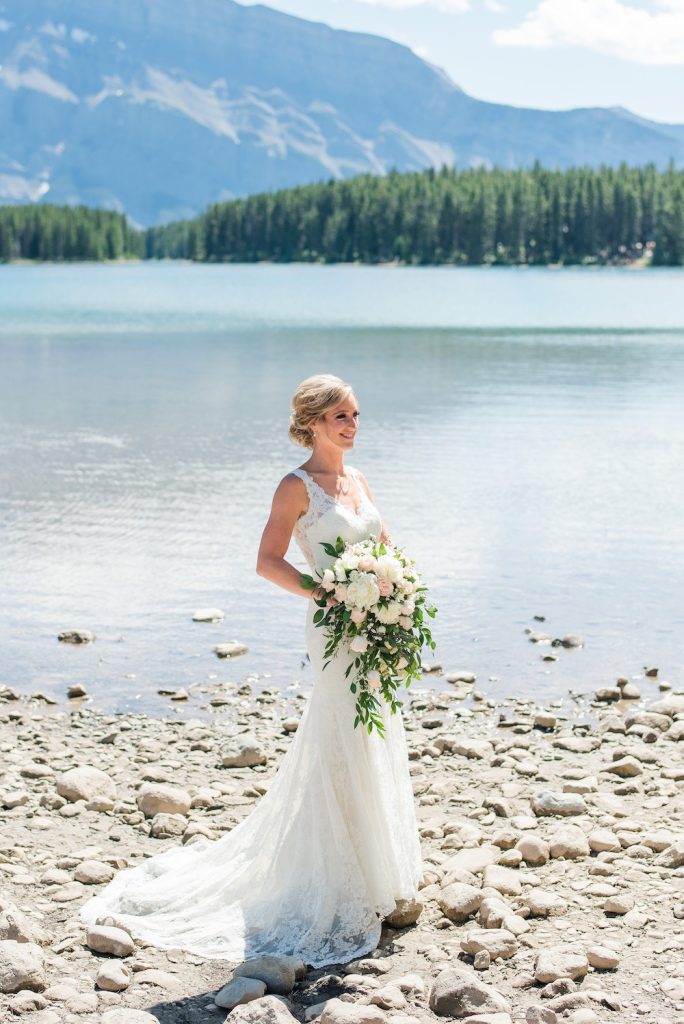 Raelene Schulmeister Photography
Flowers by Flower Chix

Posy

Posy bouquets are a more tightly designed, round arrangement of flowers. These are often held by not only the bride, but also bridesmaids, or other important attendees. These bouquets are often heavier on the floral and have minimal greenery included. The posy bouquet is an excellent option for brides looking for something classic and timeless. These bouquets can be done tighter or looser depending on the style you prefer!

Posy bouquets look gorgeous with a wide range of different flowers. A few suggestions would be roses, spray roses, orchid blooms, ranunculi, tulips, disbud chrysanthemums, mini green hydrangeas, carnations, peonies, and dahlias (late summer and fall).

Crescent Shaped Bridal Bouquet

Corrina Walker Photography; Flowers by Flower Chix
This type of bridal bouquet is shaped to look like a crescent moon. It has a tighter cluster of blooms in the middle with a cascade effect going down and up on either side of the bouquet to create the crescent shape. This is a statement bouquet that will look absolutely stunning with A-line, mermaid and form-fitting wedding dresses!

A few flower suggestions for a crescent shaped bouquet are roses, spray roses, orchid blooms or stems, ranunculus, disbud chrysanthemum, carnations, calla lilies, scabiosa and craspedia.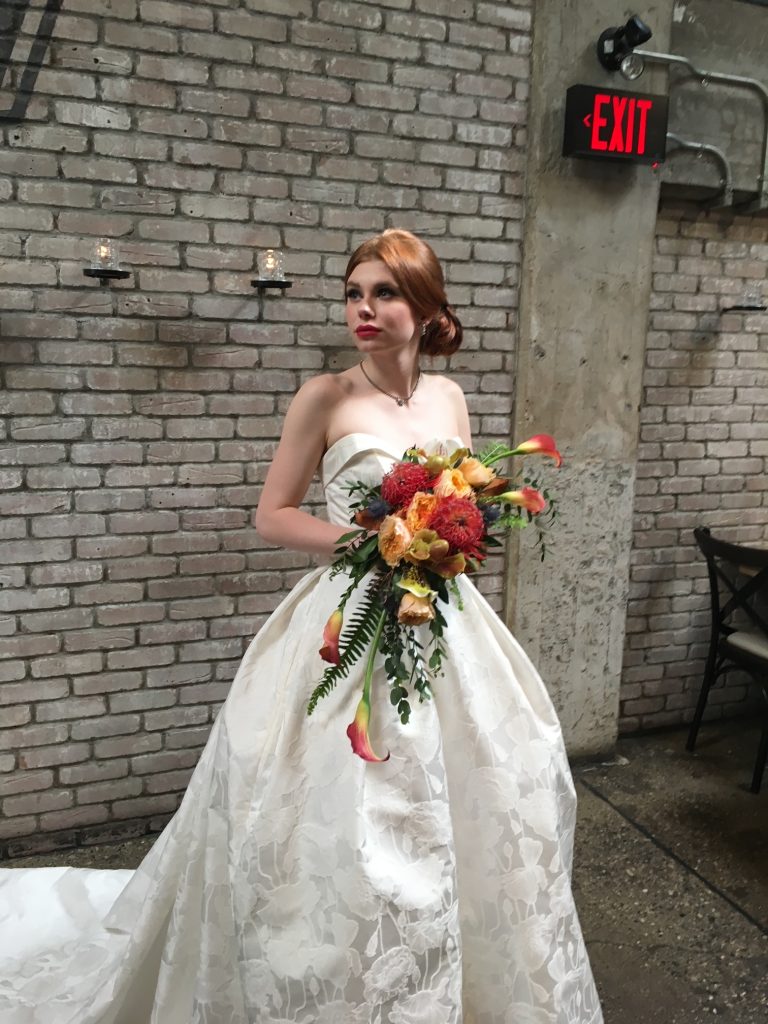 At Flower Chix, we understand and appreciate the importance of having flowers that represent your own unique taste. We offer a wide range of designs and floral types in order to match your wedding floral dreams.
Classic and Timeless
For those that have an appreciation for tradition, a classic bouquet made with roses, lilies and peonies will not disappoint. These flowers offer clean lines and will compliment any style of gown that is worn on your big day. Posy and cascading style bridal bouquets are highly recommended!
Rustic
If the wedding of your dreams embodies rustic features, the flowers are an integral part of bringing that vision to life. Flowers such as baby's breath, wildflowers and foliage make a great combination to give the appearance of a romantic and rustic style. The hand-tied bridal bouquet would be our suggestion if you want to create this type of look!
Bohemian
Brides that are wanting to exemplify their free spirited nature in their wedding florals can go for a bohemian styled bouquet. These bouquets are textured and often include uncommon florals such as succulents and feathers. These blooms paired with flowing ribbons can create a beautiful look for someone wanting to encapsulate a bohemian styled wedding. We highly recommend hand-tied bridal bouquets or crescent shaped bridal bouquets to achieve this look!
Whimsical
For brides wanting to live out their fairy tale wedding, vivid floral coupled with embellishments can play a part in curating the look being dreamed of. We would suggest bouquets that include dahlias and tulips for those that want bright floral on their special day. Any style of bridal bouquet can be made to look whimsical by our talented designers!
At Flower Chix, we ensure that each bridal bouquet is carefully curated by our adept floral designers. We take pride in sourcing the freshest flowers and paying attention to every intricate detail to ensure that your bouquet arrives looking flawless on your wedding day.

Let us be a part of your wedding journey and help you find the perfect bridal bouquet that tells your unique love story. Contact us today to schedule a consultation and let our team of experts guide you through the process of selecting the bouquet that will perfectly complement your dream wedding. Your happily-ever-after awaits!